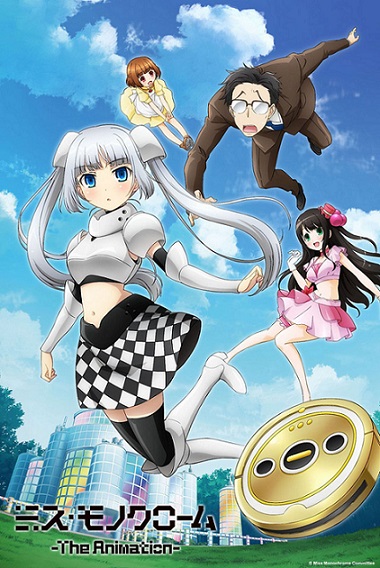 Warning! This page contains 
Spoilers 
and 
Unmarked Information.Read at your own Risk!
1."Fall"- Miss Monochrome dreams of becoming a popular idol just like Kikuko and asks Mana to be her manager.She pays Mana 19.3 billion yen to be her manager, but Mana runs away with the money, leaving poor Monochrome homeless.Monochrome runs into Maneo and makes him her manager, not knowing that he is the manager of a convenience store.
2."Heaven"- Monochrome wakes up after spending the night practicing her autograph for her future fans. Ru sucks up too many papers and breaks down, so Monochrome buries it in the yard outside the apartment.
3."Vengeance"- As Aliens invade earth on a human hunt,Monochrome is given a golden Evoluta battery as a reward for her work and upon returning to her apartment, the battery overcharges her circuits, combining herself with Rū-chan to destroy the aliens.She wakes up later with no memory of what happened
4."Metamorphose"- Monochrome sees a Nendoroid figure of Kikuko as a sign of popularity and decides to make one of herself.The Nendoroid becomes a huge success and gets mass-produced.However, it does not help improve Monochrome's popularity at all.
5."Halloween"- Monochrome gets an opportunity to appear in cosplay on a Halloween - themed children's special; lacking a understanding of nuance,she dresses up in a costume designed to scare the children and her entire presence is edited out of the final broadcast.
Ad blocker interference detected!
Wikia is a free-to-use site that makes money from advertising. We have a modified experience for viewers using ad blockers

Wikia is not accessible if you've made further modifications. Remove the custom ad blocker rule(s) and the page will load as expected.